Zuoz  |  Engadine  |  Switzerland  |  CH0698
This charming apartment is situated in the heart of Zuoz. Thanks to its splendid historic village center with several patrician houses, Zuoz is regarded as one of the most beautiful village in the whole Engadine.
Thanks to an accurate restoration with delicate interventions, this precious attic has regained its original splendour. The current structure highlights the beautiful and historic roof but also respects antique elements. Still, state-of-the-art technology has been intelligently introduced to make it a true gem among the attics of Zuoz.
Living space: 95 m2
Entrée
Open plan living / dining room
Kitchen
2 en-suite bedrooms
Laundry tower under the stair case leading to the 1st floor
Outdoor parking space within 100 m from the house.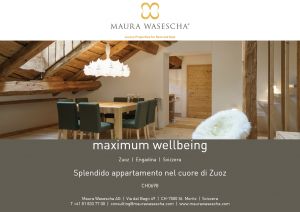 Please enter your contact details in the form below.